SECURITY, CLOUD SERVICES & INFRASTRUCTURE
Cloud Services
---
OIT continues to pursue a "Cloud First" strategy: investing in platforms, technology, and tools that allow the university's information systems to expand and scale with our enrollment growth.
In 2017, OIT began a major data-center hardware refresh, providing increased capacity and performance for applications that need to remain on premises, while simultaneously developing the foundation necessary to shift significant workloads to cloud computing platforms such as Amazon Web Services (AWS).
---
Threat Detection and Intelligence (TDI)
Cyber security continued to be a priority for OIT in 2017. Over the course of the year, we focused significant effort on improving the security and integrity of the UC Merced network. The University of California introduced a new network Threat Detection and Intelligence (TDI) service, deployed by OIT in May 2017, which provides insight and coordinated security efforts across campus locations. The service, provided by FireEye, analyzes as many as 50 million events per day on the UC Merced network to detect and respond to potential threats. 
---
By the Numbers: FireEye Metrics
---
10,000
approximate number of network security alerts analyzed by
FireEye in 2017
157
number of network security alerts escalated to OIT security staff for analysis and remediation during the same period
400
approximate number of network vulnerabilities that were detected and remediated over 920 individual systems
3689
number of UC Merced employees (including student workers) that completed cybersecurity training in 2017
Cyber Security
---
The security team ramped up its awareness and training efforts for National Cyber Security Awareness Month in October with tabling and student outreach activities happening throughout the month.
Nick Dugan, UC Merced's Chief Information Security Officer, was a panelist at the inaugural Cyber Aware Day hosted on the UCM campus by CITRIS and attended by over 100 students. 
On the risk and compliance front, OIT participated in a UC system-wide risk assessment based on the NIST Cyber Security Framework, and began work to address nine Management Corrective Actions (MCAs) from a network security audit performed in 2016.
Bobcat Desktop
---
The management and security of end-user devices like computers, tablets and smartphones was also an area of heavy focus over the course of the year. We have developed infrastructure to automatically patch and encrypt university-owned laptops and mobile devices—dubbed Bobcat Desktop—and we are beginning to deploy devices with these security features built-in as of early 2018. 
The benefits of these features are significant not only to the university, but also to end users, who will no longer be responsible for the management of data encryption or software updates for the life of their covered device.
Looking Forward
---
In 2018, OIT's Cloud Services team plans to deploy significant improvements to Office 365, UC Merced's cloud-based email, calendar, and collaboration service. Enhancements include additional storage space and vastly improved email spam/phishing/malware protection.
There are even more ways to make sure that your data is secure and always accessible. OIT continues to make available to all UC Merced faculty and staff, offering unlimited cloud-based backup for your devices and files, and our subscription to now offers even more value with unlimited file storage, seamless desktop integration through Box Drive, and a maximum file size of 15 GB.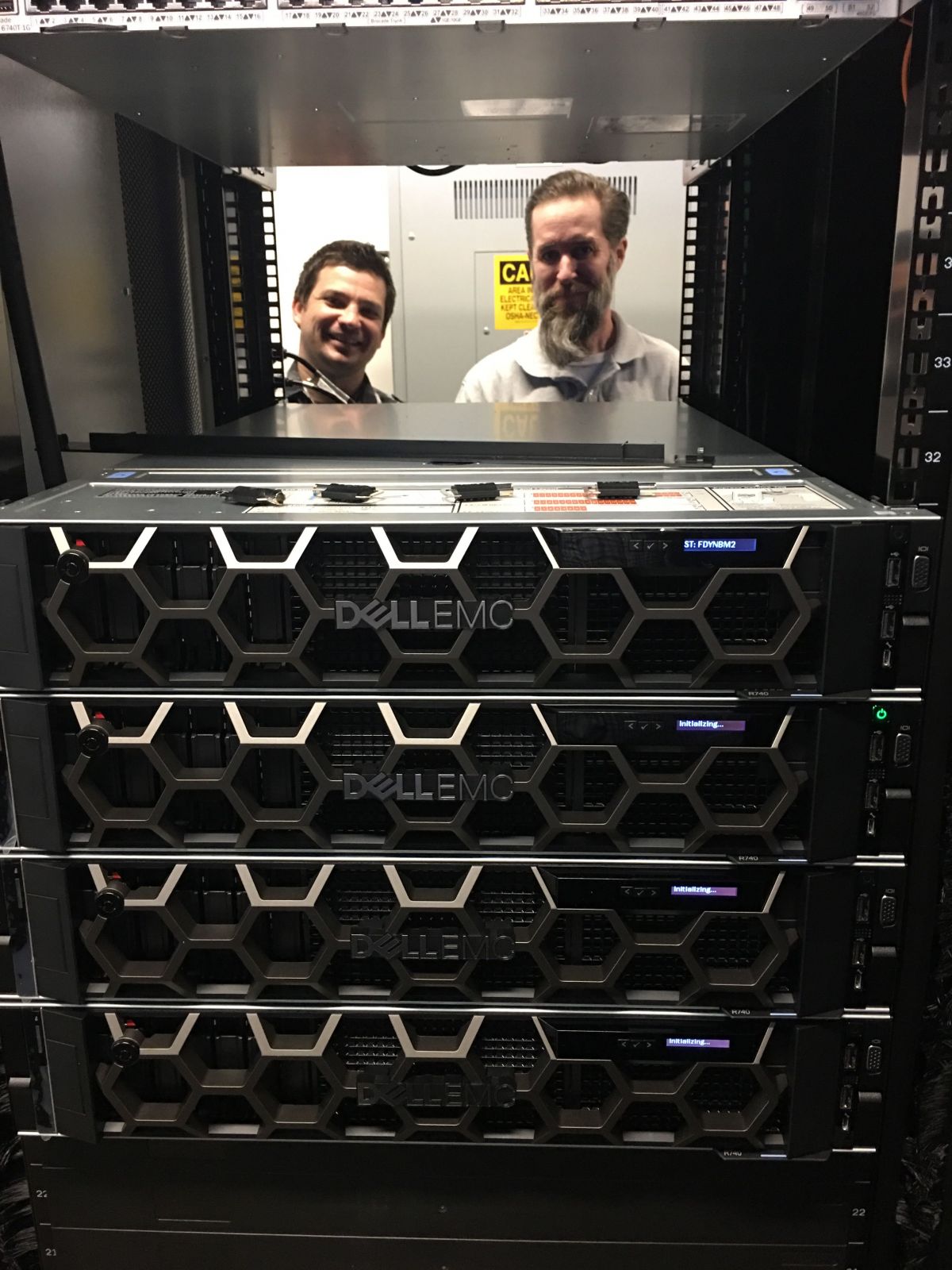 OIT's Jeff Pedro and Shane Middleton with the new network servers that make all our upgrades possible.