UCPath—the implemention of a single payroll, benefits, human resources, and academic personnel solution for all UC employees, which went live for UC Merced in December of 2017—has been an enormous undertaking for a number of campus partners, but perhaps none have been so involved in the nuts and bolts of UCPath as the Office of Information Technology.
Deploying a system as comprehensive as UCPath isn't just a matter of plugging in a new software system and logging in. To the contrary, although the entire UC system engaged in years of development to build and configure the platform, our Data Services team also had to build an infrastructure on our campus that could handle all the information that has to flow in and out of multiple source systems based on the campus business processes that occur every day.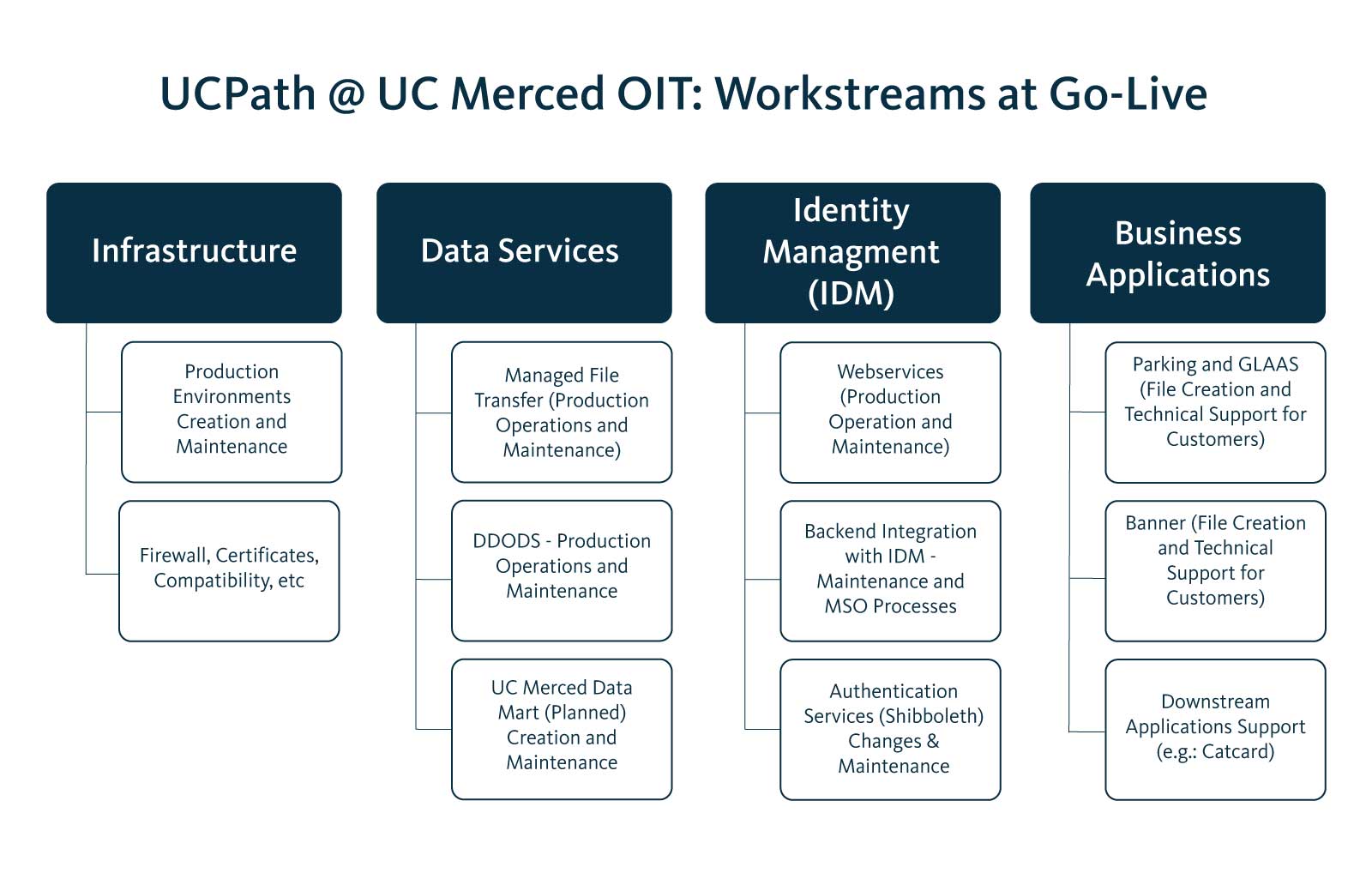 Learn more about UCPath workstreams below.
To do this, OIT staff had to gather information about the separate systems that have housed campus payroll, employee, and student-related data. Once the team worked through a plan to integrate all the data streams into the single UCPath platform, Data Services staff needed to stitch together all of those streams and set up data feeds and other interfaces that would populate the UCPath platform.
There were over 50 source data systems in all–several located at UCLA where UC Merced's General Ledger data is housed and where the legacy Payroll and Personnel System was hosted–many using multiple technologies that made integration even more difficult. In addition, extensive integration testing and data validation was required to ensure adherence to regulations inherent to payroll and benefit entitlements.
UCPath Workstreams Defined
Data Services
---
Services at UC Merced and at the UC System level that house, move, and structure data feeds to align to produce actionable information and reports
Infrastructure
---
The underlying hardware and technical environments that support the other 3 workstreams
IDM
---
(IDM = Identity Management)
Technologies to manage access and online identities across the UCPath solution
Applications
---
Source and downstream business applications that ingest data consumed by UCPath or based on personnel and payroll processes